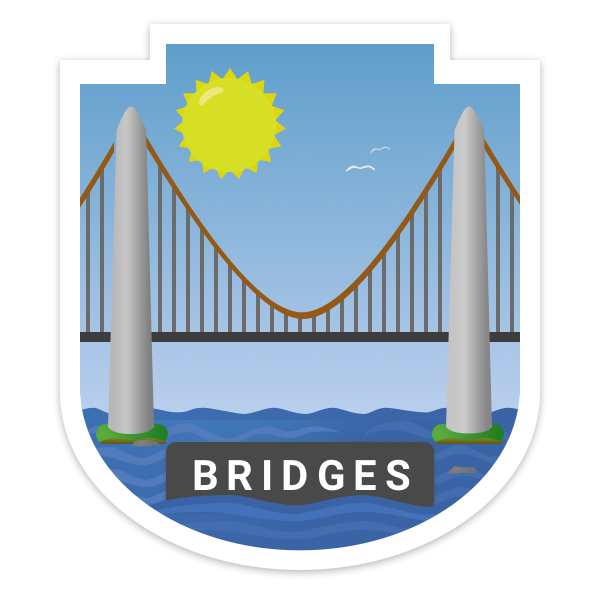 Bridges
Stickers
Bonus Stickers
These beautiful bridges from around the world do more than get you from one place to the next. They showcase the engineering and artisitic style of human development throughout history. Visit these bridges and enjoy the unique style and the work that went into making them so iconic.
Stickers
Charles Bridge
Czech Republic
A medieval stone arch bridge constructed in the 14th century by King Charles IV.
Photo by R Boed
Chengyang Bridge
China
This beautiful covered bridge was built in 1912 to cross the Linxi River.
Photo by Rutger van der Maar
Golden Gate Bridge
California, USA
This iconic "golden" bridge opened in 1937 to connect San Francisco with Marin County.
John Frost Bridge
Netherlands
Part of Operation Market Garden, British forces captured and defended the bridge in the Battle of Arnhem.
Photo by Engyles
Kapellbrücke
Switzerland
This footbridge crossing the river Reuss is the oldest wooden covered bridge in Europe.
Photo by swissbert
Old North Bridge
Massachusetts, USA
Visit the location where the first shots were fired starting the American Revolution in 1775.
Pegasus Bridge
France
Learn about the surprise attack to take the bridge and prevent German amour from reinforcing troops during the D-Day attack.
Photo by Etienne Baudon
Ponte Vecchio
Italy
Once the only bridge over the Arno River, the bridge has become a lively spot for visitors to explore.
Photo by Darold Massaro
Rialto Bridge
Italy
The oldest bridge spanning the Grand Canal, shops were added in the 15th century to pay for its maintenance.
Photo by gnuckx
Stari Most
Bosnia and Herzegovina
When this bridge was completed in 1566, it was the widest man-made arch in the world.
Photo by Dennis Jarvis
Sydney Harbour Bridge
Australia
View from a distance or climb this iconic bridge for beautiful views of the city.
Photo by Wyncliffe
Tower Bridge
United Kingdom
A beautiful, iconic suspension bridge spanning across the River Thames.
Photo by phil_foto
Bonus Stickers
Bastei Bridge
This unique sandstone bridge provides a footpath high above the Elbe River.
Photo by Marco Nürnberger
Millau Viaduct
This bridge, built in 2004, soars above the Tarn valley, making it the tallest in the world.
Photo by Samir Mohamed