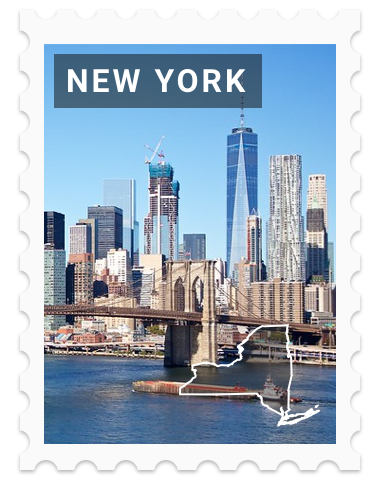 New York
Cities
Landmarks
National Parks
Capital
Albany
Statehood
July 26, 1788 (11th state)
Popular Cities
Popular Landmarks
African Burial Ground National Monument
A historic monument to the over 400 Africans buried nearby in the 17th century.
American Falls
At 110 feet tall, it's the second of the three waterfalls that make up Niagara Falls.
Central Park
Enjoy the beauty and activities happening at the most visited urban park in the United States.
Chrysler Building
Take in the site of this Art Deco skyscraper that was the world's tallest building in 1930.
Ellis Island
Once the busiest immigration station in the US, almost 12 million migrants arrived through this port.
Empire State Building
The famous skyscraper was the tallest building in the world from 1930 to 1970.
Federal Hall
It was at this location that George Washington was sworn in as the nation's first president.
Flatiron Building
This steel framed building shaped like an iron was the tallest in New York city in 1902.
September 11th Memorial
A memorial to those killed in the 9/11 attacks and World Trade Center bombing in 1993.
St Patrick's Cathedral
This Neo Gothic Roman Catholic Cathedral dates back to 1858.
Statue of Liberty
A symbol of freedom, and a welcoming beacon to immigrants arriving to America in the early 1900's.
Time Square
Surrounded by billboards and brightly lit advertisements this commercial intersection is a favorite for tourists.
Washington Square Park
Located in Lower Manhattan, it's one of the best known parks in New York City.