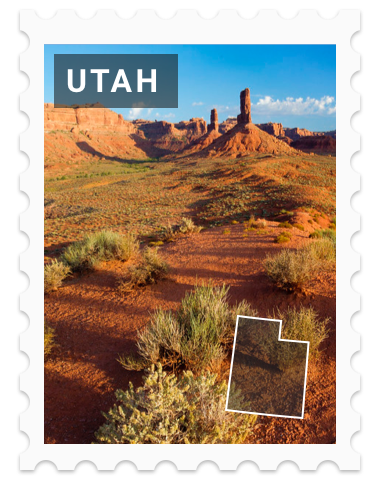 Utah
Cities
Landmarks
National Parks
Capital
Salt Lake City
Statehood
January 4, 1896 (45th state)
US National Parks
Arches National Park
Enjoy the beauty of these unique sandstone arches.
Bryce Canyon National Park
Explore the colorful rock structures called hoodoos formed from weathering and erosion.
Canyonlands National Park
A magical place of mesas, canyons, and buttes carved by the Colorado and Green rivers.
Capitol Reef National Park
Enjoy the colorful canyons, ridges, buttes, and monoliths that reside in the park's desert landscape.
Zion National Park
Enjoy the spectacular reddish and tan-colored walls of the canyon eroded by the Virgin River.