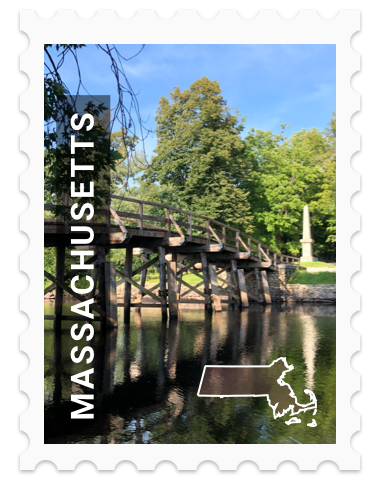 Massachusetts
Cities
Landmarks
National Parks
Capital
Boston
Statehood
February 6, 1788 (6th State)
Popular Cities
Popular Landmarks
Boston African American National Historic Site
A historic area dedicated to preserving the history and culture of the African American community.
Granary Burying Ground
John Hancock, Paul Revere, and Samuel Adams are buried here in the 3rd oldest cemetery in Boston.
Old North Bridge
Visit the location where the first shots were fired starting the American Revolution in 1775.
Old North Church
The oldest standing church in Boston, it was used to warn the colonists of the British Army.
Old South Meeting House
This 1729 meeting house was used to debate the rules and regulations passed by British Parliament.
Old State House
It was here that the Declaration of Independence was read on July 18, 1776.
Park Street Church
Built in 1809, it was the tallest building in the United States until 1828.
Plymouth Rock
Visit the area where the Pilgrims first landed in the New World.
The Battle of Bunker Hill
A famous battle during the American Revolutionary War in June of 1775.
The Boston Tea Party
Protesting taxes, the Sons of Liberty threw 342 chests of tea into Boston Harbor.
The Paul Revere House
Home to the famous silversmith and Midnight Rider who warned citizens that the British were coming.
USS Constitution
The oldest warship on the water today, the ship was built in 1797 to help fight against pirates.
Walden Pond
The site where Henry David Thoreau was inspired to write his famous work, Walden; or, Life In the Woods.