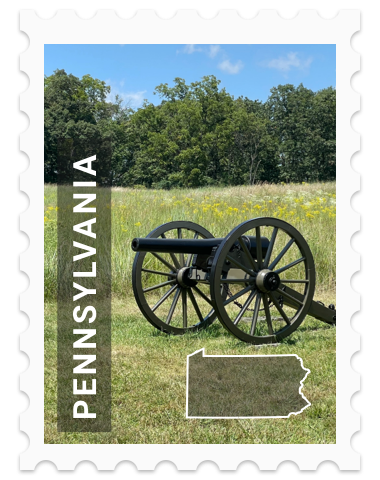 Pennsylvania
Cities
Landmarks
National Parks
Capital
Harrisburg
Statehood
December 12, 1787 (2nd state)
Popular Cities
Popular Landmarks
B. Free Franklin Post Office
Visit the only colonial-themed post office still in operation today by the United States Postal Service.
Betsy Ross House
The home that is believed to be the location where Betsy Ross sewed the first American flag.
Carpenter's Historic Hall
Constructed in 1770, the hall was the location of the First Continental Congress in 1774.
Christ Church
From 1754 to 1810, the church's tower and steeple was the tallest structure in what is now the United States.
Christ Church Burial Ground
Visit the resting place of Benjamin Franklin, and his wife, Deborah.
Elfreth's Alley
Wander this historic street with 32 homes dated between 1703 and 1836.
Gettysburg
A 3-day battle that would become the turning point for the Union's victory in the Civil War.
Independence Hall
The location of both the signing of the Declaration of Independence and the US Constitution.
Liberty Bell
The famous cracked bell is a symbol of freedom.
President's House
Home to George Washington and John Adams during their presidencies.