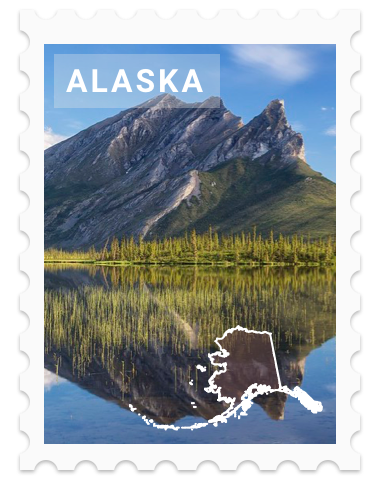 Alaska
Cities
Landmarks
National Parks
Capital
Juneau
Statehood
January 3, 1959 (49th state)
US National Parks
Denali National Park
The park is centered on Denali, the highest mountain in North America.
Gates of the Arctic National Park
Slightly larger than Belgium, this expansive park is located completely north the Arctic Circle.
Glacier Bay National Park
The park preserves over 3 million acres of Southeast Alaska.
Katmai National Park
Named after Mount Katmai, a major eruption in 1912 created the Valley of Ten Thousand Smokes.
Kenai Fjords National Park
Named for its numerous fjords carved by glaciers over thousands of years.
Kobuk Valley National Park
Sitting 25 miles north of the Arctic Circle, the park preserves the Great Kobuk Sand Dunes.
Lake Clark National Park
This remote park is only accessible by boat or seaplane.
Wrangell—St. Elias National Park
The largest of the 63 US National Parks, tall mountain peaks, volcanoes, ice fields and glaciers make up this remote terrain.